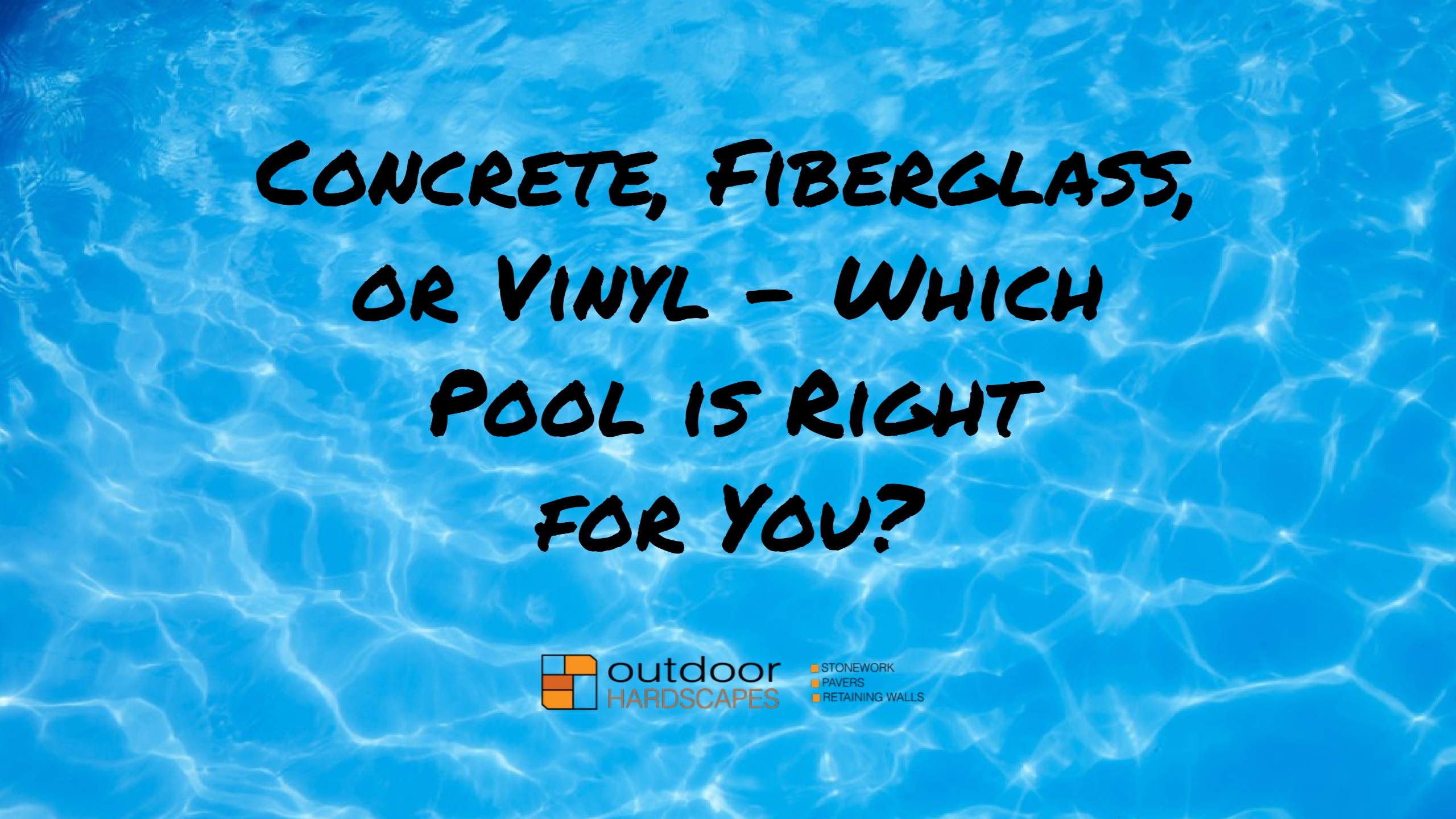 If you are looking to install an inground pool, you are probably aware that there are three different types: fiberglass, vinyl liner, and concrete. While each pool type comes with a set of advantages and disadvantages, it is up to you to decide which one is the correct fit for your home. Keep reading below for more information regarding concrete, fiberglass, or vinyl liner pools.
Fiberglass Pool Advantages
Fiberglass pools have many advantages. One of the main ones being that it is so easy to maintain because of its surface porosity. Another advantage of a fiberglass pool is that is manufactured off-site, and the installation typically happens within two days. Fiberglass swimming pools are also durable because they have no liner and they have an attractive look that is elegant.
Disadvantages
The initial cost of a fiberglass pool is a little higher than a vinyl liner. However, if you factor in the cost of liner replacements, you will spend far less. Another disadvantage of a fiberglass pool is that the sizes and shapes are not customizable. You cannot change the shape, size, or depth of the pool – so you will need to be able to find a model that you will be happy with for as long as you are living in your current home.
Concrete Pool Advantages
A concrete pool's main advantage is that the size and shape are customizable. Concrete pools give you the opportunity to customize the shape and depth, so if you are wanting an extremely deep or large pool, concrete may be the way to go! Also similar to fiberglass pools, concrete pools are very durable.
Disadvantages
Although concrete pools are customizable, they are pretty high in maintenance because they are extremely porous. You should brush the surface of the pool with a steel brush at least once a week to remove anything from the surface. Because it is so porous, you also must use more chemicals in order to kill the algae, which embeds into the surface of concrete pools. The biggest disadvantage of concrete pools is that it cost exponentially more money to own because of the money spent on chemicals, electricity, acid washing, and more.
Vinyl Liner Pool Advantages
Vinyl Liner pools has one large advantage – it is much more affordable to install, typically $10,000 less than fiberglass or concrete pools. This is typically their most appealing factor to those looking to add a pool to their home. Another great advantage of vinyl liner pools is that you can also customize the shape, size, and depth of the pool. This will cost more, but typically still be less than a fiberglass or concrete pool.
Disadvantages
The largest disadvantage of vinyl liner pools is the cost and frequency of having to replace the liner. Liner typically last between 5-9 years and has an average cost of $4000 to replace. Another disadvantage of vinyl is that the warranty tends to not be straightforward. It usually says the liner lasts about 20+ years, but you may find that the warranty only covers the seams of the liner, doesn't cover labor, water, or other expenses, or that it is pro-rated.
As you can see there are a lot of pros and cons to owning each type of pool. We hope the above advice will help guide you to making the right choice for your home!
If you are still undecided which one is right for you, call Outdoor Hardscapes to help bring this dream to life. Give Outdoor Hardscapes a call today at (251) 214-9166! We will help your landscape and hardscape dream ideas come to life. We have the experience and know-how to create amazing outdoor spaces and we will take your outdoor living to the next level. Visit our Outdoor Living Area.
© Southern View Media 2018: Reproduction without explicit permission is prohibited. All Rights Reserved. "We Put You Online So You Don't Get Left Behind"