TRAVERTINE
This gorgeous type of rock is formed by deposits at the mouth of mineral springs or in limestone caves. In the United States most of our supply comes from Yellowstone, but there are also other mineral spring supplies in the country. However, most of our 850,000 tons used annually is imported, with Turkey as our main source.

Travertine is a very popular building material and for good reason. Historically, it was mined as early as the Greek and Roman eras and some of these examples still exist. The famously know Colosseum in Rome, Italy is the oldest and largest amphitheatre ever built and is mainly constructed of this material.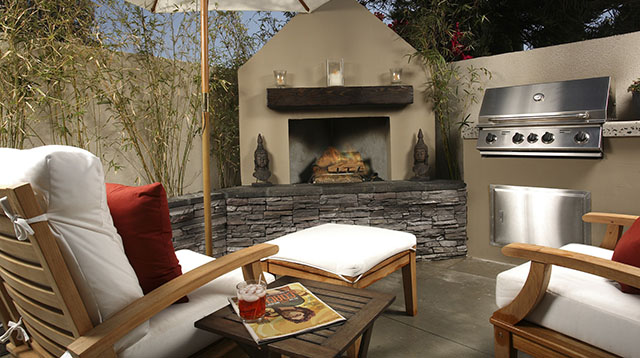 TRAVERTINE IS FOUND IN A RANGE OF NATURAL COLORS.
If you are planning to use a stone in any natural color scheme, you may find it in this type. Each source will produce a different color based on the mineral deposits in that area. Some may be beige or tan, while others could have a red or gray tone.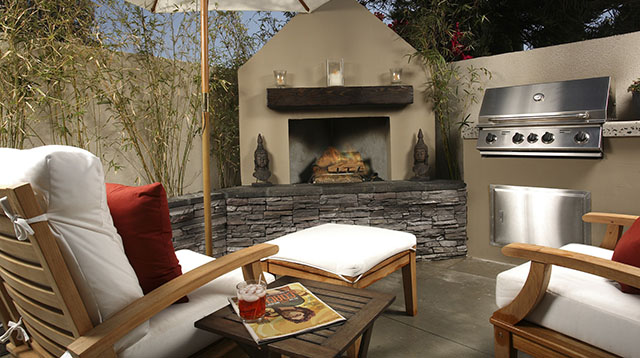 TILES AND PAVERS ARE AVAILABLE AND MAY COMPLEMENT EACH OTHER.
The use of smaller tiles and coping pieces on a pool or rock wall will work great with large rough-cut pavers. They could make the perfect accent in your color scheme. Plus, options are limitless.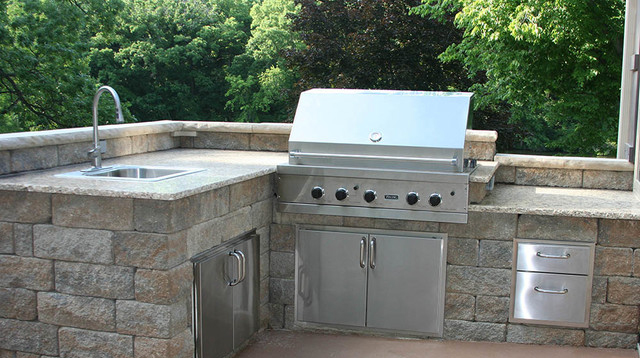 IT IS GRADED BY THE SOLIDITY OF THE ROCK.
In general, the smaller the pores and denser the rock, the higher the price. Some pieces are filled and polished, and these are considered construction grade.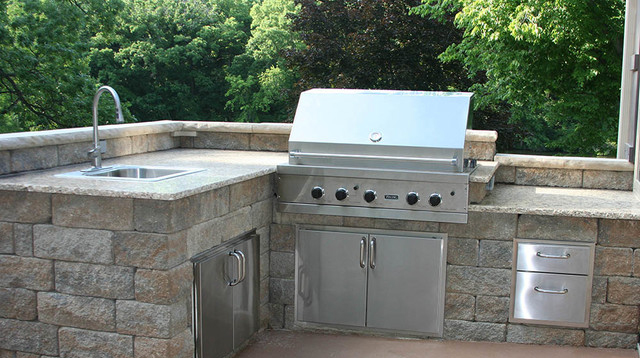 EQUALLY POPULAR FOR INDOOR AND OUTDOOR PROJECTS AND IT'S A GREAT ROCK TO TIE THE SPACES TOGETHER
If you want consistent flow from one area to another, such as moving from a family room to the outside space, this rock works well. The various applications, sizes and colors allow versatility, individuality and sturdiness.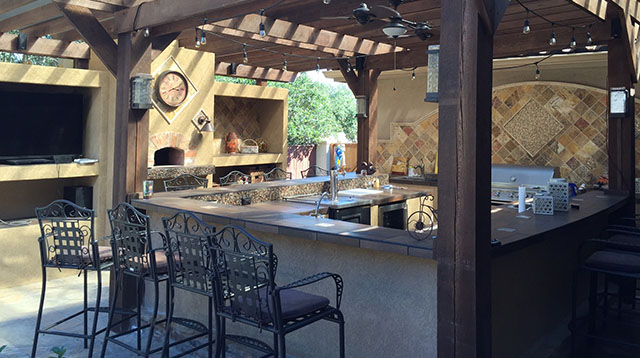 POPULAR FINISHES INCLUDE CHISELED, POLISHED, TUMBLED AND HONED AND FILLED.
Each type of finish will meet a different style statement. While travertine is a rustic type of stone, a polished finish or the addition of decorative elements may bring it into a sleeker profile where it can work with other stones. Regardless of your style statement, there is a travertine or two that could possibly fit into design.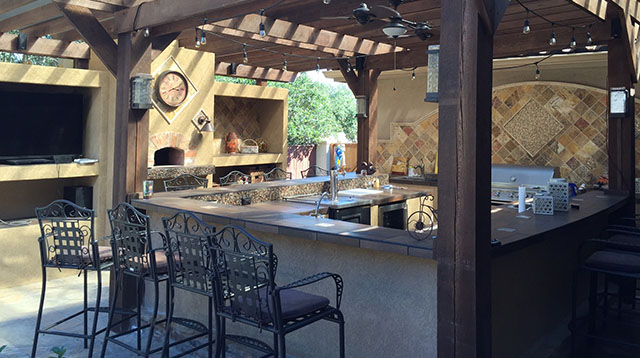 WHILE SEALING THIS ROCK IS COMMON, IT IS NOT REQUIRED.
As a countertop, it may be sealed to avoid staining. However, as a tile, it doesn't need sealing at all and is very durable. Walls may or may not be sealed, depending on your style preference. While sealing isn't hard, it does require reapplication every few years. Either way, this stone will provide durability and beauty for many years to come.
TAKE YOUR SPACE TO THE NEXT LEVEL
Twenty years ago, families worked outside and relaxed indoors after a hard day. Today, many of us are shut inside for our entire work day and enjoy the outdoors after work. This has caused a major flux in the way we set up our homes. What was once a simple patio with a grill and picnic table has evolved into outdoor living spaces, complete with summer kitchens, wine fridges, smokers, bars, gorgeous fire pits and even water features. A once-lonely swimming pool can now be the feature of the outdoor space, along with beautiful paths, accent walls, waterfalls, mood lighting and more. Televisions and sound systems are also now made for outdoor spaces and can help create an atmosphere of relaxation and comfort. Who would want to be stuck inside when you have the perfect outdoor getaway in your very own backyard?
Outdoor Hardscapes can design the perfect outdoor space for you. It is what we do and we do it well. Take a look at our gallery for some great plans or to help finalize your own ideas. Get your creative juices flowing and come see us. Bring your vision, photos, clippings, Pinterest folders, color swatches or whatever inspires you. Our designers will work hard to make your space the most beautiful it can be, while mindfully respecting your budget.
If you have an outdoor space that isn't living up to its full potential, give it the Outdoor Hardscapes treatment. We will turn mundane into show-stopping. Call us today for your appointment.