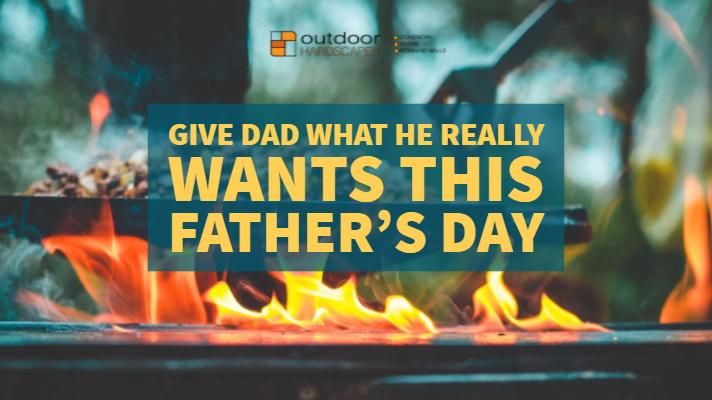 Are you struggling with a gift idea for Father's Day? Your dad is important, and we know that you want to give him something that he will love! What better gift to treat your dad with than an outdoor kitchen? If he already has one, no worries! We have plenty of ideas for items he can add to it. Keep reading below for ideas on what to gift your dad this Father's Day that he will really love!
Grill
What's an outdoor kitchen without a grill, right? A built-in gas grill is definitely a must-have for an outdoor kitchen! When determining what type of grill to buy, think about the maximum amount of people you'll be feeding. Being able to cook a majority of the meat or vegetables at once helps to keep the food hot when it is time for dinner to be served.
Countertops
You will need space to prepare your gourmet meals, so be sure that there is plenty of countertop space. If you have everything crammed together, it could mess with dad's culinary creativity and nobody wants that! Be sure that he has plenty of elbow room and that you choose countertops that can withstand outdoor elements.
Pizza Oven
Talk about outdoor kitchen must-haves! Whoever gets tired of pizza? Definitely not us! An outdoor pizza oven is compact, reliable, and pretty inexpensive. Plus, it will be some of the best pizza you have ever made at home!
Kegerator
You may be speaking to dad's heart if you show up on Father's Day with a Kegerator. A kegerator is a cost-effective draft beer dispenser. You keep the keg in a refrigerated environment which then allows it to remain fresh and carbonated for an extended period of time. Plus, you can't have an outdoor party without some beer!
Wet Bar and Sink
For times when one bottle of wine isn't enough for your guests, you'll be ready with a bar and stools! You can operate the grill while someone else tends the bar serving drinks, including your own. The bar also serves as additional space to eat once your outdoor table fills up. You'll also need a sink outside to make cleanup easy! This can be added to the bar area.
Fireplace
Grilling out doesn't have to be just a summer gig when there's a fireplace by the outdoor kitchen. Stay warm and cozy as the air cools down and enjoy great food while you are at it!
An outdoor kitchen or outdoor kitchen accessories as a Father's Day gift is really a win for everyone! Dad will be anxious to use his new gift which means he may invite you over to grill out soon!
Give Outdoor Hardscapes a call today at (251) 214-9166! We will help your hardscape dream ideas come to life. We have the experience and know-how to create amazing outdoor spaces and we will take your outdoor living to the next level. Visit our website at www.outdoorhardscapesgroup.com or email chaves716@gmail.com.
© Southern View Media 2018: Reproduction without explicit permission is prohibited. All Rights Reserved. "We Put You Online So You Don't Get Left Behind."