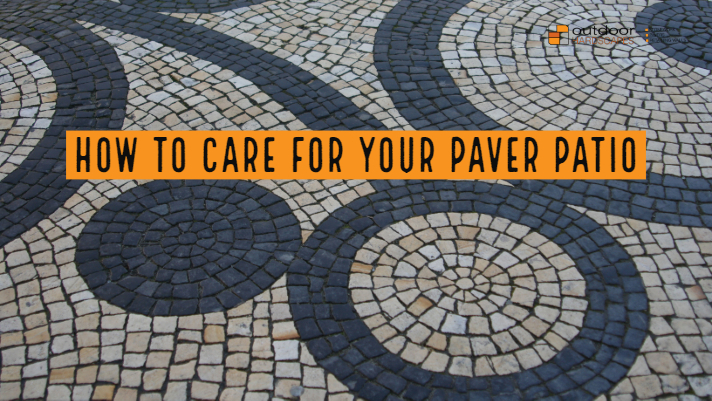 A paver patio is a beautiful addition to any outdoor landscape. It's the focal point of your outside entertainment space and a properly maintained patio can add value to your home. Pavers made of concrete, stone or brick are very low maintenance and with proper care will last for many years.
Clear the Weeds
Just like your lawn and garden, your patio is susceptible to weed growth especially if you use regular sand in the joints. These little green intruders sprout up in between the cracks of your pavers. This will make your patio look neglected, but it is a simple fix. Make it a routine to remove weeds or moss anytime you see growth.
If you don't want to spend your weekends pulling weeds, then use polymeric sand when you initially install your patio. This unique sand hardens when moistened, to prevent weed growth and to ensure pavers are kept in place. Discuss this option with our professionals at Outdoor Hardscapes during the consultation.
Give it a Good Washing
While a paver patio can add a stylish update to your landscape, it doesn't come without succumbing to the elements. Over time mud, dirt and dust collect on the flooring and can easily be tracked inside your home; making another mess for you to clean. Sweep regularly and invest in a pressure washer or rent a device from your local hardware store. The key thing to remember here is to not spray directly into the joints. This can disrupt the sand between the pavers.
You may also use a mixture of mild detergent and water to clean your patio. Sweep the ground thoroughly and use a wire brush, rag or sponge to remove stains. Test the application for damaging effects on a hidden area before cleaning the entire visible space. Rinse the patio thoroughly after cleaning.
Replace Damaged Stones
Not only do cracked pavers make your patio look unsightly, a tender barefoot can get hurt very easily. Replacing damaged or stained stones only take a couple of hours and can be done without disrupting the other pavers.
Apply a Sealant
Sealing your pavers every two to three years will protect your patio from environmental conditions. A sealant designed for pavers will prevent dirt from settling into the bricks and causing stains. Apply the product according to the directions to ensure correct application.
Properly caring for your patio will save you from replacing cracked or stained pavers in the future. Regular maintenance will also add years of use and enjoyment. Outdoor Hardscapes is there to help bring your vision of your outdoor patio to life. We offer several paver options and our professionals can help you select and design the ideal patio for your needs.
Give Outdoor Hardscapes a call today at (251) 214-9166! We will help your hardscape dream ideas come to life. We have the experience and know-how to create amazing outdoor spaces and we will take your outdoor living to the next level. Visit our website at www.outdoorhardscapesgroup.com or email chaves716@gmail.com.
© Southern View Media 2018: Reproduction without explicit permission is prohibited. All Rights Reserved. "We Put You Online So You Don't Get Left Behind."