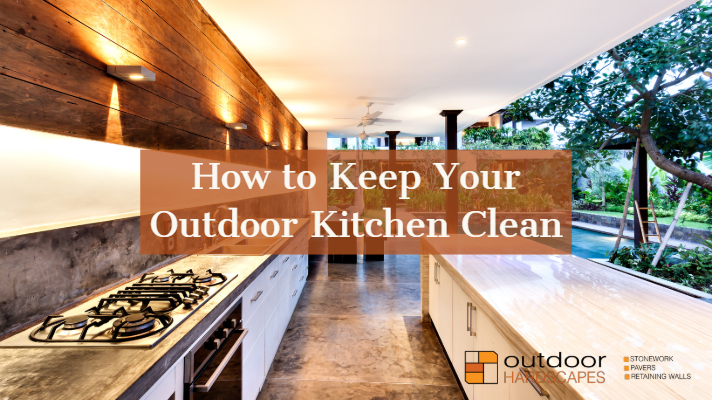 When the summertime temperatures start going up so does the heat of the outdoor grill. This is the time of year to maximize the use of your outdoor kitchen. But with all the cooking and hosting you'll be doing, it's important to keep a clean space that you can enjoy for years to come.
The Grill
You will use your grill almost every weekend during the summer and therefore it will likely have more buildup of grease and grime. Not keeping your grill cleaned regularly could end up affecting the performance and possibly the taste of your food. Depending on the type of grill you own (charcoal, propane, or natural gas), each will have its own cleaning requirements.
First, turn off the gas and disconnect your grill if it is connected to a built-in natural gas line or a propane tank. A solution of hot water and mild detergent is all you need to clean your grill racks and heat plates. Use a grill brush to scrub off cooked on food from grates. If the grill grids are porcelain coated, do not use an abrasive cleaning tool because it may chip or crack the grids. Instead, use detergent and hot water and gently scrub. Next, use a rag with mild detergent and hot water to wipe down the exterior of the grill. Scrub any food particles off, rinse off and let dry before you use it again.
The inside lid of a grill is one of the most overlooked parts of the grill. Over time, grease can build up. Make it a regular habit to clean inside the lid with a product specifically made to cut through grease. Rinse and dry before next use.
Cleaning the grease cup regularly is also beneficial. Read your grill's instruction manual to remove the grids, heat plates and burner. Clean the burner inlet with a small brush and remove any food or debris around the burner. Use a stiff wire brush to remove clogged grease. Finally, protect your grill with an all-weather cover when not in use.
Appliances and Counters
Stainless steel is a popular choice for outdoor appliances. It is less prone to rusting and gives a sleek look to your space. Use a cleaner specifically designed for use on stainless steel appliances and wipe down with a soft rag. Clean your countertops after each use to prevent the build-up of food and stains.
If you have an outdoor refrigerator, clean the inside as you would your indoor one. While outdoor refrigerators are weatherproof, remember to bring indoors during wintertime as they do not need to experience temperatures below 40 degrees.
Furniture
Cover your outdoor furniture with vinyl coverings to protect them from the rain and snow, or if possible, store indoors during bad weather or the winter months. A roof structure over your patio is the perfect addition and will help protect your outdoor kitchen from the elements.
Give Outdoor Hardscapes a call today at (251) 214-9166! We will help your hardscape dream ideas come to life. We have the experience and know-how to create amazing outdoor spaces and we will take your outdoor living to the next level. Visit our website at www.outdoorhardscapesgroup.com or email chaves716@gmail.com.
© Southern View Media 2018: Reproduction without explicit permission is prohibited. All Rights Reserved. "We Put You Online So You Don't Get Left Behind."