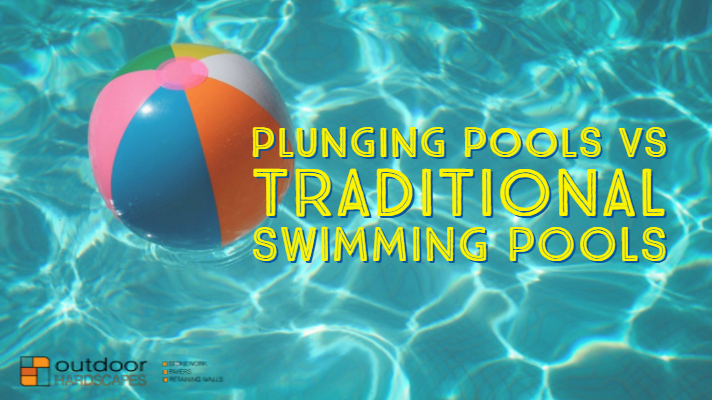 The warm weather is approaching, which means it is pool season! If you don't currently have a pool of your own, but have desperately wanted to install one, you are not alone. However, choosing the right type of pool for your home can be extremely stressful. Keep reading below as we discuss the difference between a plunge pool and a traditional swimming pool. This should help you narrow down your choice of what pool you want to be swimming in!
Traditional Pools
A traditional pool typically has neat, symmetric lines and look like your standard rectangular lap pool. However, many homeowners have started upgrading their traditional pool designs to more modern styles. While a traditional pool is not the most appealing, it is very practical and perfect to use for exercise. If you have a lot of room in your backyard and are looking forward to swimming big laps, a traditional pool will be the right fit for you! Traditional pools are typically made from sandstone, granite, and marble.
Plunge Pool
A plunge pool is a small, shallow pool that is built for the purpose of lounging, wading, and cooling off. Plunge pools are a great alternative to a traditional pool if you are looking more to "chill" and not as much for exercise. Many homeowners prefer plunge pools because their costs are lower, smaller in size, easier to maintain, and reduce water requirements. Due to the limited dimensions, plunge pools are shallow and take up less space. This is beneficial if you have a smaller lot. Many plunge pools can be upgraded with water features that look like fountains and waterfalls. Plunge pools are extremely popular in places like France and Europe due to them being economical, easy to maintain, and less water usage. Although you cannot swim big laps like you could in a traditional pool, you can perform low-impact exercises. For instance, you can perform exercises that focus on stretching your arms, legs, and abdominal muscles – rather than cardio from swimming laps.
As you can tell from the above, there are many benefits to have a plunge pool and there are many benefits to having a traditional swimming pool. Ultimately, the decision should be based on your home and your lifestyle. If you are looking for something a little smaller, easy to maintain, and lower in cost, a plunge pool may be best for you. However, if you have a bigger yard and are wanting to get in some laps around the pool, then a traditional pool is the route for you! If you have any questions, Outdoor Hardscapes has you covered. Reach out to us today and we will assist you as best as possible!
Give Outdoor Hardscapes a call today at (251) 214-9166! We will help your hardscape dream ideas come to life. We have the experience and know-how to create amazing outdoor spaces and we will take your outdoor living to the next level. Visit our website at www.outdoorhardscapesgroup.com or email chaves716@gmail.com.
© Southern View Media 2018: Reproduction without explicit permission is prohibited. All Rights Reserved. "We Put You Online So You Don't Get Left Behind."