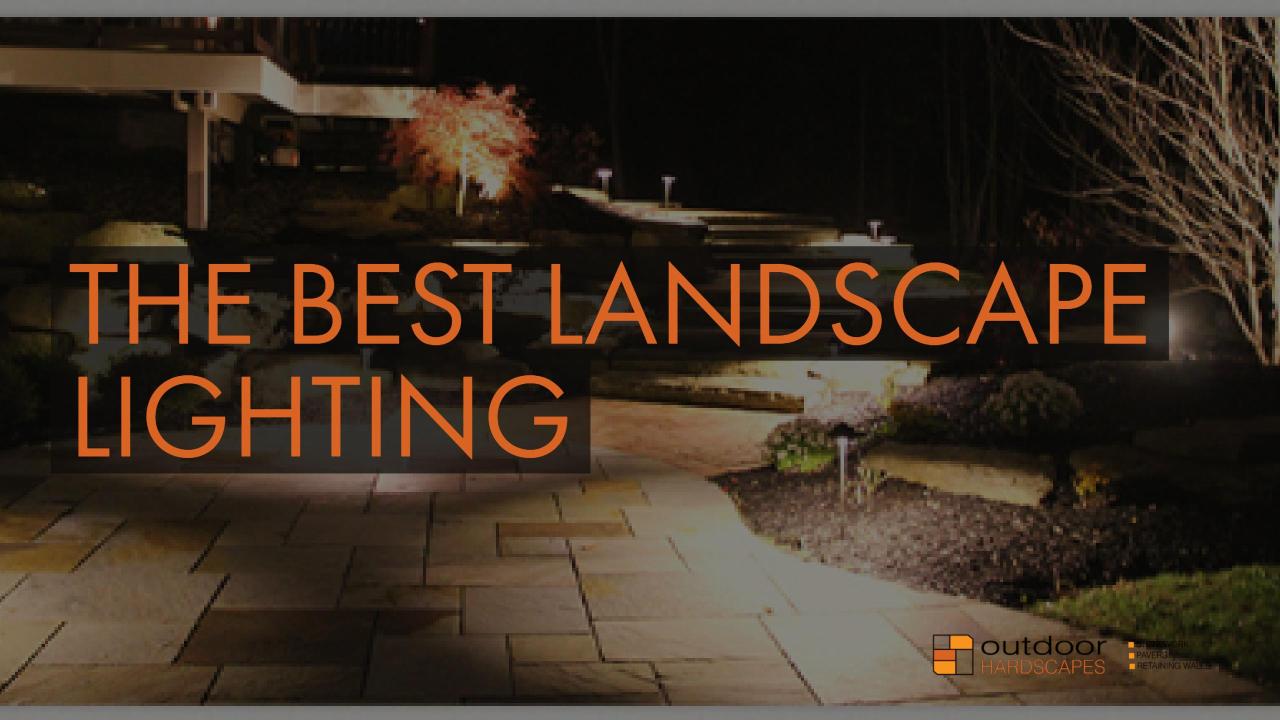 Only a few years ago, landscape lighting consisted of a security light by the sidewalk and a porch light. Today, it is an expression of individuality and a way to showcase the beautiful landscaping around your home and property. There are several things to consider when you plan your lighting arrangement.
●        HIGHLIGHT OR LOWLIGHT: What is the purpose of your lighting? Are you looking for a little glow throughout the area, or a bright light to draw the eye? Is there a key area of the property that you might like to illuminate? Is this for visual appeal or another reason? Do you want natural looking lights, or are you up for some color and excitement?
●        SAFETY AND SECURITY: Lighting a pathway for safety means that the lighting should be on the brighter side. Pathway lighting may be indirect or direct. You may want torchlights along a walkway, or a more indirect light directed down on the stairs. One of our favorites is a dual wattage spotlight which will emit a low light until motion is sensed, when it then kicks up to a high level to allow one to move around. Putting security lighting around the home to discourage prowling is another great idea and a valuable use of motion sensors. You may not want low level light in every location, so having a light that illuminates an area brightly when motion is sensed is a great way to keep your home secure.
●        ACCENT AND SPOTLIGHT: You shouldn't just enjoy your yard in the daytime. Installing the proper lighting to highlight the beauty of your home means that you will also enjoy it after the sun has set. A special garden or a flagpole will be a center of attention when it is lit at night. Lighting around a swimming pool or koi pond will not only provide safety if you swim at night, but also shine with the beauty of your water feature. Colored lighting in the pool or pond gives it an entirely different look after dark.
●        LED LIGHTING: Today's main lighting is LED, or Light Emitting Diode. These lights are safe, emit no heat, last a long time, and are inexpensive to operate. LED lights are extremely versatile. You can change the colors or rotate through them using a remote control.
●        HOLIDAY LIGHTING: Nothing is easier than setting your landscape lights to red and green for the Christmas season, orange for Halloween, and red, white, and blue for Independence Day. A simple remote control selection and you are done. Whew, that was easy!
If you are considering an outdoor renovation, give Outdoor Hardscapes a call today at (251) 262-2591! We will help your hardscape dream ideas come to life. We have the experience and know-how to create amazing outdoor spaces and we will take your outdoor living to the next level. Visit our  Outdoor Living Area.
© Southern View Media 2017: Reproduction without explicit permission is prohibited. All Rights Reserved. "Get Online or Get Left Behind"