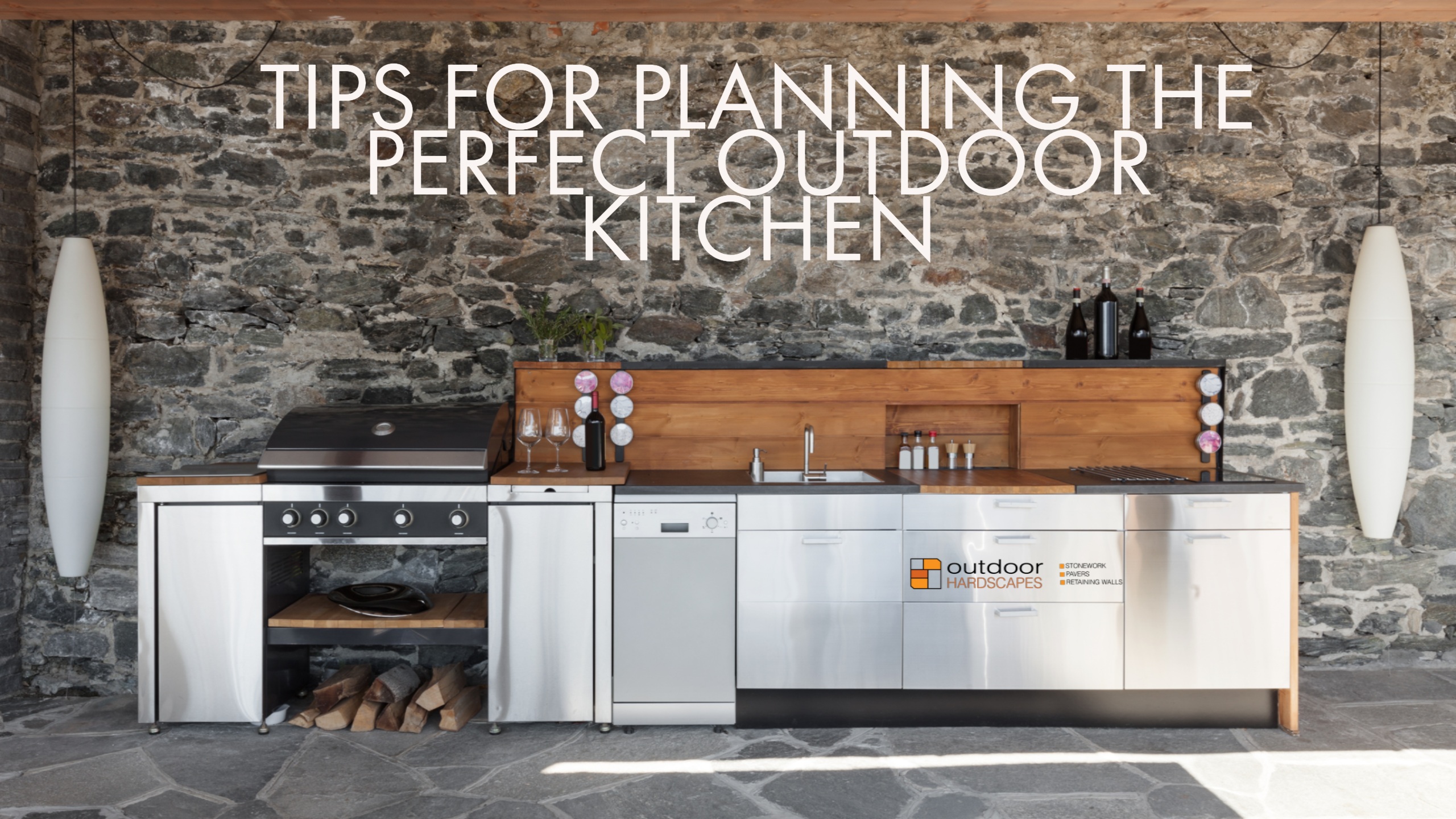 If you turn on any home and garden TV channel, it won't be long before you hear the term "bring the outside in." We spend so much time and energy making the insides of our home feel like an extension of nature when all we really want to do is be back in said nature. It's the instinctual desire that had led to the popularity of outdoor living spaces. We yearn to spend as much time surrounded by the fresh air and vegetation as possible. Eventually, we must eat, thus was born the outdoor kitchen. This "room" is a throwback to how food was prepared centuries ago while marrying the old ways with modern conveniences. It takes a lot more than just the swipe of the screen seen on those renovation shows though. It takes foresight and Outdoor Hardscapes is here to help with that by letting you in on these tips for planning the perfect outdoor kitchen.
Provide Proper Food Storage and Prep
If you're going to truly give yourself an outdoor kitchen then don't limit yourself to just a grill. Bring the entire kit and caboodle to nature. While you don't need a sub-zero industrial refrigerator, a mini-fridge can be helpful to store wine or condiments while the rest is being cooked. And just like inside, you want to give yourself plenty of room to prep whatever food is required. The space can be used to prepare everything from cheese and crackers to hamburgers. When laying out your outdoor space, remember to plan for what you'll need to include this. Electricity and/or gas needed for the cooktop, fridge will need to be close to the house or nearest power pole and gas tank. By planning ahead to run electricity and gas to your kitchen, you'll be able to incorporate a lot of the following elements as well.
Being in nature means you have to prepare for actually being in nature. You don't want to shut down the party because a summer shower pops up or it gets a little cold in the fall. Think about the environment in which you live and then plan accordingly. This could mean mosquito netting around the sides, a rain top, or a propane heater…or all of the above! The key is to work with the weather that can be expected with being outside instead of fighting against it.
Find Good Landscape and Views
Part of the beauty of having an outdoor kitchen is being able to enjoy all the natural wonder. But, just like the weather, you need to work with it, not against. If you're going to build a deck in the mountains, find a plateau large enough for your plans. Build up off the shifty sand on the beach. In the city, head to the roof for more square footage. Find a good landscape to support your space. And definitely make sure you have a decent view. That's part of the fun of being outside.
Once night falls, stay outside to soak up the stars and evening sounds. If you're still going to be cooking or hanging out in a group, you're going to need some light. It doesn't have to look like an airport runway, but just enough to provide a bubble. String up some market lights or just post torches at the corners to cast a glow that works well under the velvet sky. You can put them on timers or make them manual so you can check out the stars when the mood hits.
Incorporate Natural Elements
There's nothing that looks stranger than forcing an element where it doesn't belong. When planning your outdoor kitchen, take account of the landscape around you and build from it. This can mean using limestone for flooring or wood beams as a pergola. Whatever your style, you want to create a natural flow from your outdoor space back into nature.
There are few things as pure as the great outdoors. Live your life in the fresh air as much as possible and make the transition seamless with these tips for planning the perfect outdoor kitchen from Outdoor Hardscapes.  Don't forget to throw in the fire pit to really tie the bow on the whole area!
If you are considering an outdoor kitchen or renovating an existing one, give Outdoor Hardscapes a call today at (251) 262-2591! We will help your landscape and hardscape dream ideas come to life. We have the experience and know-how to create amazing outdoor spaces and we will take your outdoor living to the next level. Visit https://outdoorhardscapesgroup.com.
© Southern View Media 2017: Reproduction without explicit permission is prohibited. All Rights Reserved. "Get Online or Get Left Behind"