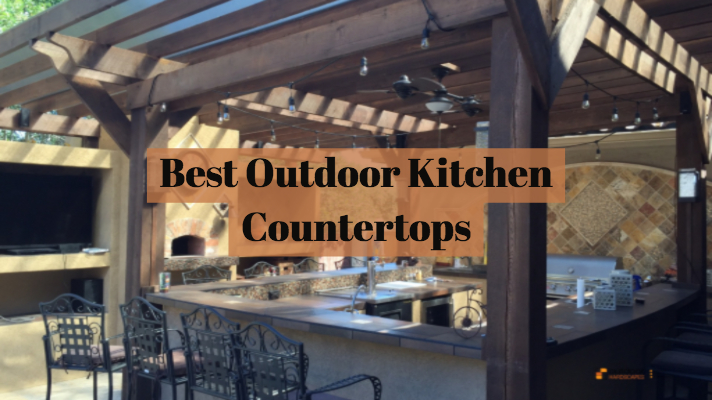 Outdoor kitchens are all the rage. They can add years to your home enjoyment. Whether you are beginning to raise your family or heading into retirement, outdoor kitchens double the fun.
There are many considerations in designing this space. One big one is what type of countertop will suit your needs. The same countertops that work well inside will not translate to the outdoor elements. Take some time going over your options and reading the considerations below. This will help you turn your dream outdoor kitchen into a reality for years to come.
3 considerations before choosing your countertop
Your climate: certain materials do not hold up well to freezing or heavy UV light.
Your use: will you use this for light entertaining, rowdy super bowl parties, or everything in between?
Your budget: how much are you able to spend? Keep in mind installation costs.
3 good choices for outdoor kitchen countertops
Concrete
Concrete countertops are extremely popular right now. Especially for outdoor spaces, they are a top choice. Durable, clean-cut and with a favorable price point of about $100 a square foot, concrete meets most homeowners' needs. It's also available with add-ons like drain sinks and a multitude of beautiful colors and stains. But beware: as easy as concrete can be on the back end, installing it can be tricky. This is one area you do not want to DIY. Improper installation of concrete countertops can cause cracking later. Even when reinforced with steel, cracking can occur. About 2-5 years in the concrete will crack and even break if improperly installed to start. The bottom line? If your heart is set on concrete, take the time to find and invest in an experienced, reputable installer.
Stone
Second in line of popularity for outdoor kitchen spaces is stone. Stone countertops are beautiful and generally durable. They can also be versatile and allow you to translate your inside look to the outdoors if stone is part of your indoor decor. However, certain stones are more porous than others. Why is this important? Consider that there will most likely be more spills and mishaps outside. Barbeque sauce, red wine, marinades used as you grill-all of these can cause stains in porous stone countertops. These are tough to remove.
In terms of stone, granite is a fairly safe choice. Just like other types of stone it can be a bridge between your indoor and outdoor decor which is a lovely touch. Granite is durable and stands tall against the outdoor elements. The one detail to steer away from in your granite choices? Heavy veining. Certain epoxies and fillers are used to achieve the look of veining in granite-and these fillers have a negative reaction to outdoor UV light. The result is a change in the color and look of the granite you chose. Stones will cost you about $50-$120 per square foot.
Tile
Tile is by far the least costly of outdoor kitchen countertop materials, coming in at about $10-$30 per square foot. This is a shoe-in if you are on a tight budget. Tile is very versatile as well. You can do patterns or mimic a stone look. Tile is fairly easy to install. Watch your grout choices closely, though, and hire a professional to install. Certain grout choices do not stand up to elements well, especially freezing weather.
Making the right countertop choice for your outdoor kitchen will bring you years of headache-free outside enjoyment.
Give Outdoor Hardscapes a call today at (251) 214-9166! We will help your hardscape dream ideas come to life. We have the experience and know-how to create amazing outdoor spaces and we will take your outdoor living to the next level. Visit our website at www.outdoorhardscapesgroup.com or email chaves716@gmail.com.
© Southern View Media 2018: Reproduction without explicit permission is prohibited. All Rights Reserved. "We Put You Online So You Don't Get Left Behind."