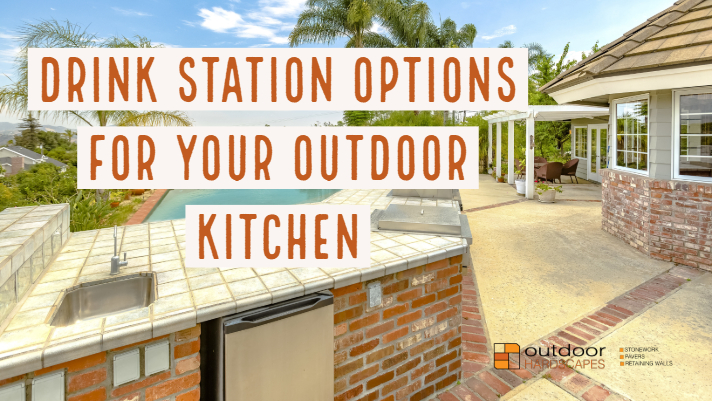 Backyards are for entertaining, relaxing and playing game. No matter what you are doing, you want your outdoor space to have all of the necessities covered. Nothing is less convenient than having to run inside every time someone needs a drink. But every outdoor kitchen doesn't look alike, and yours should fit your specific needs and desires. The drink station you select is going to be dependent on your backyard activities as well as your specific style and taste. Here are some different options to consider when picking out the drink station for your outdoor kitchen:
Beverage refrigerators are smaller in size than standard kitchen fridges and can hold anywhere from 80 cans to more than 150. Mini-fridges, as they are sometimes called, can be free standing and placed in a corner next to an outlet or they can be built into a kitchen space. Standard options include solid doors with stainless steel coatings or glass doors where you can showcase the beverage options.
Coolers submerged within a counter space or in the center or a table are great for easy drink access when hosting parties. Fill up the cooler with ice and let your drinks sit within arms reach of the grill and your guests. Submerged coolers look sleeker than your standard ice chest, don't take up valuable space on the ground and keep you and your guests from having to bend down to grab a drink. These coolers can also be outfitted with covers if you are wanting to keep them cool for longer periods.
If you plan on entertaining guests in different areas of your outdoor space, maybe a movable drink station is the best option for you. Sleek carts outfitted with wheels provide ample space, convenient access, and a modern touch to your drink station. Carts can be outfitted with cooler space for ice, flat table space for placing drinks or even extra shelving.
Whatever type of drink station you choose, you want to make sure that it matches the aesthetic of your whole outdoor space. Stainless steel is a traditional choice for its easiness to clean and sleek, modern style. Coolers and fridges that are built into spaces can be outfitted to match the style that they are surrounded by – such as faux wood or stone tiles.
Now that you know the style you are dreaming of, ask the pros at Outdoor Hardscapes for help in selecting the perfect drink station for your outdoor space.
Give Outdoor Hardscapes a call today at (251) 214-9166! We will help your hardscape dream ideas come to life. We have the experience and know-how to create amazing outdoor spaces and we will take your outdoor living to the next level. Visit our website at www.outdoorhardscapesgroup.com or email chaves716@gmail.com.
© Hummingbird and South 2018: Reproduction without explicit permission is prohibited. All Rights Reserved. "We Put You Online So You Don't Get Left Behind."